Each month we feature a Pilates 1901 client that has a remarkable change in their lives due to the fact they've chosen to do Pilates!
This month it is our pleasure to introduce you to Linda Rostenberg who came to Pilates 1901 while rehabbing a serious knee injury.
She was very cautious and thorough in her vetting of the studio and staff, but we finally won her over and today she's not only pain-free from her knee injury, but is stronger and more functional than she ever thought possible.
We've featured Linda before but we're featuring her again because she has a very special request of her Pilates 1901 family. It's about her husband and best friend, Richie.

As former owners of a Marketing business, Linda and Richie are using social media to get the word out about his need. His best friend Marvin Berger started a special page for Richie and we want to help him spread the word.
They got the idea from someone else who was successful in getting a donor just by asking.
Who knows? Perhaps our sharing Richie's story will help him get off dialysis and regain his full health.
It takes a village! Let's help Richie!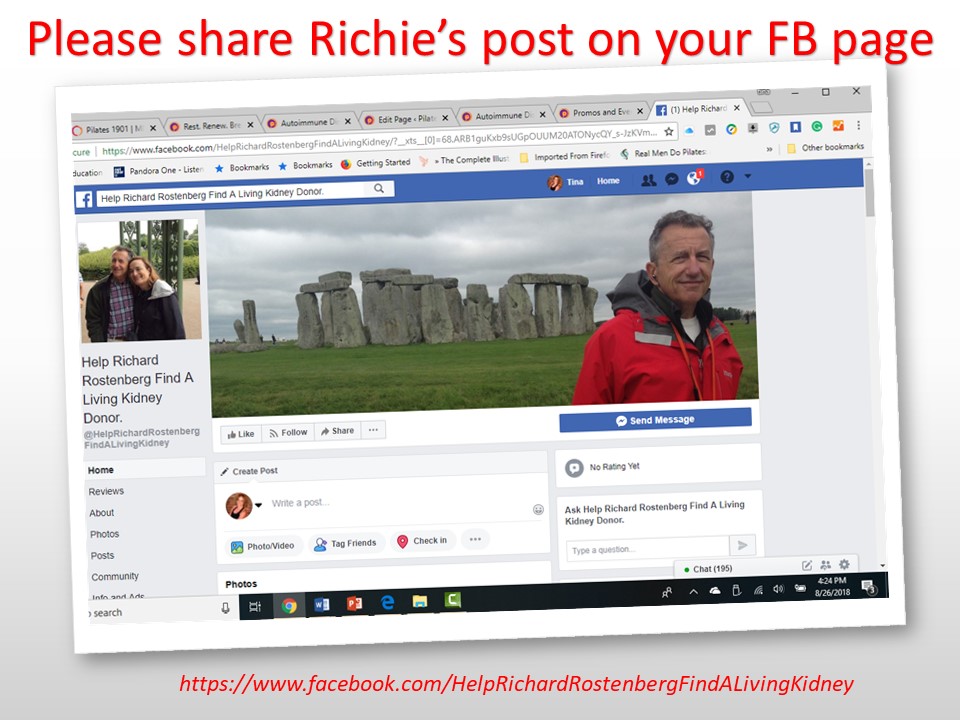 To help share, simply click on the photo above and it will take you to Richie's page. 
Thank you all for your help sharing Richie's story!
Every SHARE Matters!