Each month we feature one of our amazing clients as our Pilates 1901 Peep of the Month.
This month you get to meet the One and Only Lisa Gann!

Lisa has been a client since September 2009. During that time she's been a regular participant in our fat loss programs, attended over 1,000 mat, cardio and equipment classes and is now an avid fan of our New Inversion Therapy hammock classes.
A teacher by trade, you can catch Lisa on any given day taking a class, cheering others on at the studio, or just hanging out with her home girls around the water cooler.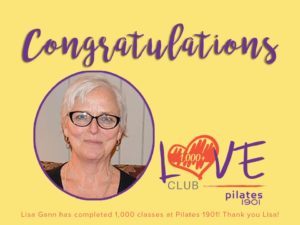 Lisa remains a loyal client (and member of our Pilates 1901
LOVE CLUB) because practicing Pilates and Inversion Therapy regularly help her manage a chronic back issue. With no pain, she's able to do the things she wants to do, including keeping up with her young students at school.
Lisa is also a BIG FAN  of PERKVILLE
,
our
Pilates 1901 REWARDS Program,
 earning big points for attending classes, referring friends, sharing the love on social media and attending our Special Events.
Thank you, Lisa, for leading by example and doing what is needed to practice good self-care.   Because if we don't, no one else will.
Do you know of someone you'd like to nominate for our Pilates 1901 Peep of the Month?