Each month, it's our pleasure to feature one of our amazing clients as our Pilates 1901 Peep of the Month!
This month we're pleased to introduce you to Glenda Goodman!

Glenda has been a client at Pilates 1901 since November 2008!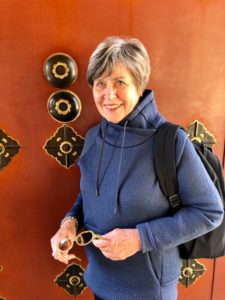 She wanted to try Pilates after doing Yoga and decided it fit her needs better.   Luckily for us, it turns out it did!
Since then, Glenda has participated in a number of our programs including our Pre T School, Leaner Stronger Sooner Fat Loss program.
She keeps her Pilates practice consistent to keep up with her busy lifestyle.
On a recent trip to New York, her friends were complaining of aches and pains from all the walking and she realized, she had none!
Retired from KU, she now spends her time supporting causes close to her heart like Planned Parenthood and the Kansa City Art Institute.
Glenda has attended over 1,000 classes at Pilates 1901, making her part of our exclusive LOVE CLUB Members.  Love Clubbers represent the mission and passion of Pilates 1901!
Thank you, Glenda, for being a long time and valued client!  We love you! 
Tina and the entire 1901 Team

Do you know of someone you'd like to nominate for our Pilates 1901 Peep of the Month? 
There's no special requirement other than they are AWESOME, FANTASTIC, AND WONDERFUL!
That's pretty easy when it comes to our clients.