It's her Birthday!  It's her Birthday!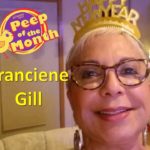 This month Franciene turns 70!  We know!  It's hard to believe, right?
Learn more about Franciene, why it took her two years of driving by to get her butt into the studio, and how she likes to spend her free time.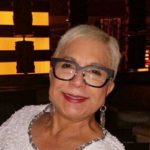 Franciene passed by the studio often as she lived nearby. When she mentioned to a friend that she was thinking of joining she shared that she and her mother knew Tina S. and gave her raved reviews. "It took me 2 years to join because of my travel schedule, ending a prior fitness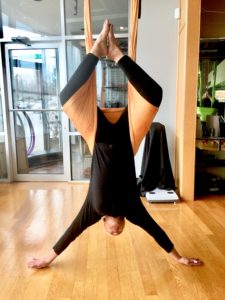 membership contract and just making the decision to do it."
Franciene had done Mat Pilates for a brief time while living in Milwaukee and found it very challenging.  However, when she first saw the Reformer I got excited to try it again.
"My body feels better all over.  I am using muscles I didn't know I had (or ever used).  I sit up more erect, my core is getting stronger……and best of all learning how to breath properly."
Franciene's favorite classes include Restorative Reformer, Basic Reformer, Basic Tramp, Core and Restore, Meditation (prepares me for the week of travel) and Inversion Therapy.  (Francine rocked her intro to IT!)
Franciene works from home and travel most weeks. She's employed with the National YMCA in Chicago and serve as Sr. Director for CEO Search.  I lead a team of 7, working with YMCA Board of Directors across the country to hire their next YMCA CEO
Franciene loves theater and history and farm to table restaurants. She makes it a habit to seek out information and stories about the places she goes for work or pleasure.
Franciene is planning to take her first tandem parachute jump in August to celebrate her 70th birthday!  Can you see why we love this woman???
Happy Birthday, Franciene!  We love you!